After my vacation, I have returned to hopefully create more frequent posts. I may not be able to post daily due to upcoming exams however.
Filipendula ulmaria is used for its pleasant taste and smell in things such as wine and beer. It is a remedy for diarrhea. If the plant is prepared to be drunk as a tea, it helps soothe flu symptoms.
However, due to it's chemical make up which is similar to aspirin, it can induce symptoms of asthma.
As previously mentioned, it can be taken as a tea, the plant can be eaten as is, or it can be used as a pleasant pot pourri around the home.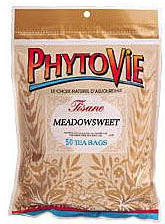 Meadowsweet Tea. (Source Unknown. Product of Phytovie)